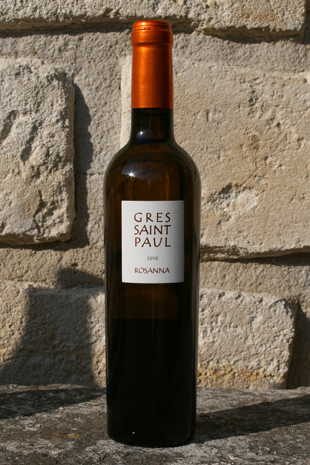 Rosanna – Muscat Doux 2010
Appellation : AOC Muscat de Lunel
Varietals : Muscat Petits-Grains
Volume by alcohol : 15.50% vol.
Yelds : 16 Hl/Ha
Harvest : Manual
Terroir : Villafranchien (pebbly and gravelly). Deep and poor soils at an altitude of 50 meters.
Vinification :
Complete de-stemming, direct pressing followed by a racking of the must at low temperature (4°C) during 24 hours.
Slow fermentation at low temperature (14°C) then mutage ( alcohol addition) to obtain a rate of 120 grams of natural sugars.
Ageing : in oak barrel of 500 liters with a stirring of the fine lees.
Dégustation
The nose has aromas of quince, pear eau de vie, broom, complemented with lightly toasted and white chocolate notes. A complex, full and powerful mouth with lots of elegance. A smooth and lingering finish. Ideal served at the end of the meal with chocolate.
Discover our muscats :